Our team of talented and experienced medical professionals combines advances in medical technology and our expertise to give you your authentic appearance. We strive to provide a variety of services that will boost your self-confidence and leave you feeling your best. 
Bleu Mirage Aesthetics strives to provide people with the resources and knowledge to maintain the appearance they desire. We strive to grant everyone the opportunity to feel empowered and beautiful. Using safe and healthy treatments, each client achieves their desired appearance.
Bleu Mirage Aesthetics' goal is to empower people to feel confident in their physical and psychological self of their concept of beauty. We believe that having confidence in your inner and outer beauty is crucial to happiness. We provide aesthetics to empower our clients so they can be confident and pleased with their appearance. 
Our experienced team set the highest standards in medical aesthetics and aim to meet our client's expectations. We will conduct a thorough consultation, explain your options, and make suggestions to make sure that you are comfortable with your enhancement plan.
We believe that everyone is naturally beautiful and unique, but we also understand that most people have insecurities that can hold them back in their lives. Our purpose is to enhance one's natural beauty and to bring back the confidence that you need and deserve.  
Founded in 2019 by Dr. Lorraine Stephenson, Bleu Mirage Aesthetics strives to empower people through safe, healthy, FDA approved treatments. Dr. Stephenson has over 20 years of experience in the healthcare business. She has worked in Pain Management, Addiction Medicine, Orthopedic and Neurosurgery for over 10 years before entering into the specialist field of medical aesthetics.
In 2019, she opened her own practice. Bleu Mirage Aesthetics, Inc. is known as a trusted and safe environment to help people look and feel empowered using medical aesthetics.
At Bleu Mirage Aesthetics, the needs of our clients stand as top priority. Each treatment is customized to the need of our clients.
The expertise of our staff creates a safe and clean environment for all clients. The professionalism practiced at Bleu Mirage Aesthetics ensures that the best care is being rendered.
Dr. Lorraine Stephenson, DNP, ANP-BC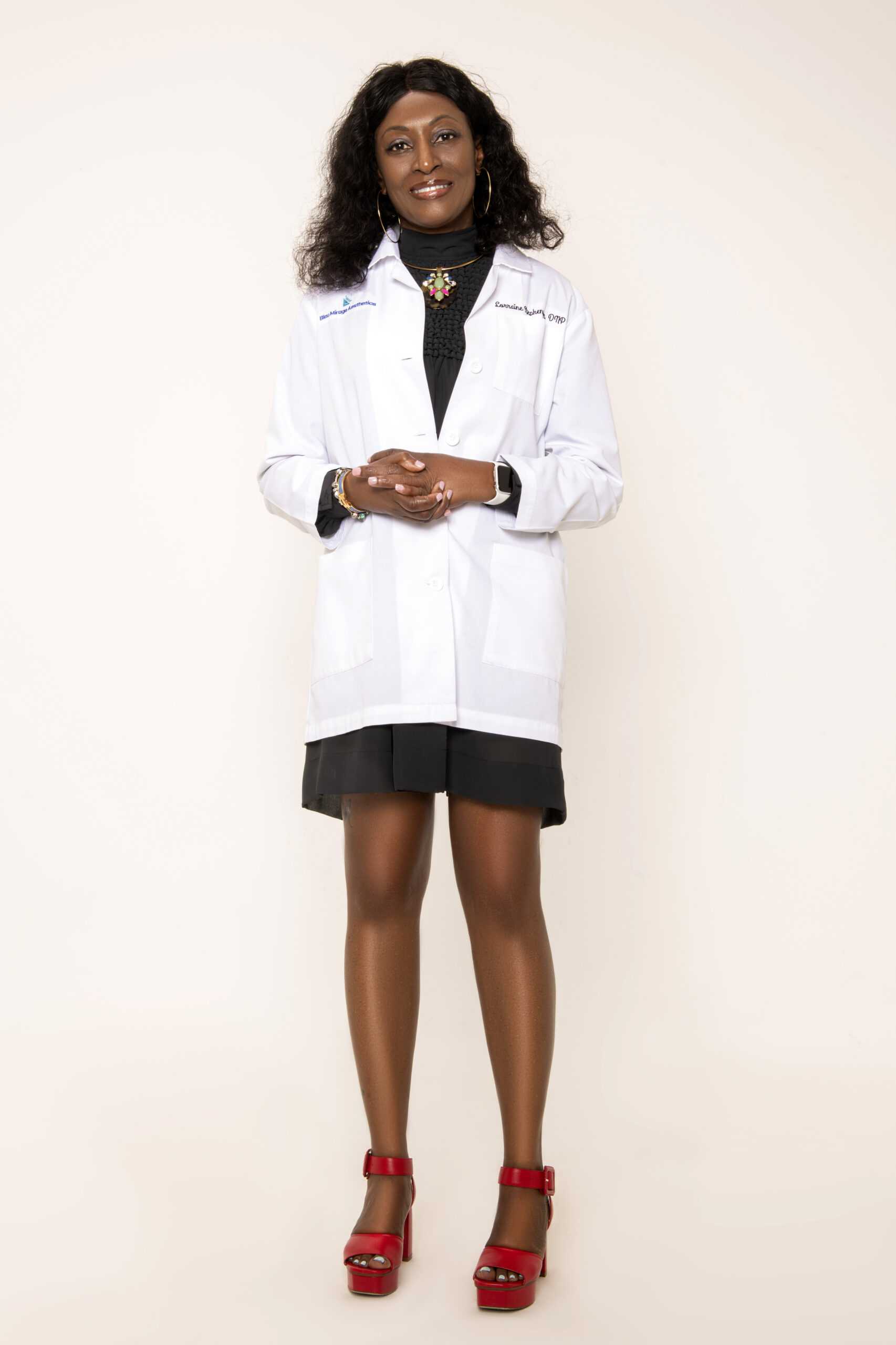 BLEU MIRAGE AESTHETICS' TEAM
Nancy is a board certified Nurse Practitioner with 10 years of clinical experience. Her professional career started when she graduated from William Paterson University with her Bachelor's of Science in Nursing degree. She continued her education and pursued her master's degree as a Family Nurse Practitioner at Chamberlain University. She has worked in the cardiovascular Intensive Care Unit as a registered nurse. Upon attaining her Nurse Practitioner degree, she sought to fulfill her passion for medical aesthetics.

Nancy understands the importance of personalized treatments for each client. She is eager to build trusting relationships with her aesthetic clients and to assist them in advancing their natural beauty.  She wants clients to look and feel their best. She understands that throughout each person's aesthetic journey, empowering and influencing them will build trust as each obtains their natural aesthetic self. She has joined Bleu Mirage Aesthetics as one of our Medical Aesthetics' providers and wants to continue to empower our clients to be their best throughout their aesthetics journey.
BLEU MIRAGE AESTHETICS' TEAM
Lord M Valle Ocasio is employed at Bleu Mirage Aesthetics Inc., in the capacity of the company's Practice Manager.
Lord joined our team in 2022, and thus far has been very instrumental in helping to steer Bleu Mirage Aesthetics Inc in the right direction, as the company strives to amplify its goal of improving customer satisfaction in every way possible.
Lord continues to demonstrate that she understands and supports the company's ongoing in-house campaign, of placing greater emphasis on ensuring that all aspects of the needs/concerns expressed by our clients are being met.
Lord has been employed in the medical field for over ten (10) years. She attended the American Institute, where she received her Medical Assistant Certification. She has also worked as a Medical Assistant Instructor, and previously worked at the Prevention Clinic and Jejula Medspa before taking on her role as our Practice Manager.
Lord is on board with Bleu Mirage Aesthetics' mission, which is to empower women and men to feel beautiful psychologically and physically without changing their authentic self.
She strives to ensure that all clients who engage the services of Bleu Mirage Aesthetics Inc., receive the prompt attention, quality service, and fulfilling results they truly desire and deserve.
Lord is a mother of six (6) children, and understands the challenges of parenting, i.e, motherhood and working. She has brought her parenting skills into the practice where she nurtures and supports the staff she oversees. She is a Team Player as well as our cheerleader.
Practice Manager
Certified Clinical Medical Assistant
Medical Esthetician | Educator
BLEU MIRAGE AESTHETICS' TEAM
Joan Halpin "Joanie" is Bleu Mirage Aesthetics lead medical licensed esthetician. She has her license in both cosmetology and Educator of cosmetology. Her career started upon graduating from high school where she realized her passion for making people feel beautiful.  

She first worked as a hair stylist before incorporating her love of skincare where she took on a role with Lancome Cosmetics. At Lancome Cosmetics, she freelanced for approximately three (3) years before studying advanced makeup and special effects makeup under professional makeup artist, Berth Roth, for television.

Joan took time off to raise her family, before returning to Esthetician school to reignite her skills and continue her passion for skincare and medical aesthetics. She graduated from Christine Valmy School of Esthetics and never looked back.

It was there that she realized her true calling for skincare. Working in this great industry brought her to the professional medical practice of Dr. Stephenson of Bleu Mirage Aesthetics.Her experience offers many services including customized facials, hydrafacials, microdermabrasion, LED photo light therapy, medical grade chemical peels, microneedling, body treatments, and more.
Joan joined Bleu Mirage Aesthetics in 2021 right after the Covid crisis where she has been accelerating her craft. In addition to treating clients, she trains and educates our young estheticians and takes part in our recently established Medical Esthetician Apprenticeship Program.
BLEU MIRAGE AESTHETICS' TEAM
Katherine is Bleu Mirage Aesthetics, Inc permanent makeup artist and Fibroblast technician.
Her career began in 2019, after giving birth to her second child. During this time, she realized that women especially mothers have limited time to engage in self-care due to the time required to care for their children. She wanted to change this for other mothers like herself.
Katherine lost her mother at an early age and understands the importance of building memories with your children especially when they are young. She understands that our lives are not promised but determined by a higher power. Losing her mother and having children of her own, she wanted to secure caring for her children. But also, realized the importance of self-care and finding time to look and feel beautiful from the inside and out.
In 2020, Katherine became certified as a Brow Artist, Nano Brow technician and microblading. She is one of few Nano Brows technicians in New Jersey. In addition, she is certified on color correction which allows revitalization to an old brows tattoo.
In 2022, Katherine was trained in Ombre Brows. She has mastered her technique which allows clients to have more options to enhance their brows.
Katherine is also trained in Fibroblast -Skin Tightening to help treat some of the concerns of mature skin such as fine wrinkles and loss of elastin/collagen. When needed these clients are then further referred to Dr. Stephenson for medical aesthetics treatments such as Chemical Peels, SkinPen, Dermal Fillers, PDO threads or Neurotoxins to correct aging and damaged skin concerns.
Permanent Makeup Artist
Fibroblast Technician
Medical Esthetician | Educator
BLEU MIRAGE AESTHETICS' TEAM
Dayana is our newly hired team member. She joined our team in June 2022 as our Front Desk Receptionist while she prepares for her New Jersey Esthetician license. 
Dayana's journey into the Aesthetics field started at an early age when she realized that her skincare was challenging. She made several visits to medical providers who also faced challenges in managing her skin due to the color of her skin. Dayana felt that she had to take action otherwise, she would be stuck with hyperpigmented skin affecting her psychological and physical being. A variety of options were explored, without producing the desired results.
Dayana's concerns resonate with the normal challenges encountered by people of color. Hence, she made that conscious decision to attend beauty school. As a result, Dayana enrolled in Parisian Beauty Academy by Paul Mitchell and is a recent graduate.
Dayana has expressed her passion is to help people with their outer and inner beauty allowing them to feel beautiful inside and out. She also is passionate about one day of owning her own medspa. Dayana's passion for Aesthetics has been an inspiration leading her to pursue a license in massage therapy.
At Bleu Mirage Aesthetics, Dayana's passion is striving to make our clients feel welcomed, beautiful, and obtaining care for all skin types.
BLEU MIRAGE AESTHETICS' TEAM
Shayla is Bleu Mirage Aesthetics, Inc. Cosmetologist/Esthetician. She joined our team in June, 2022. Shayla is a licensed cosmetologist who is passionate about making clients feel confident and beautiful in their own skin.
Shayla graduated from the Artistic Academy in 2018 where she launched out into the hair industry. She has experience as well as certification in Keratin complex and hand tied extension. Shayla has experience in servicing clients from various ethnic heritage.
Her passion for the skincare industry came about after teaching a Balayage class. Shayla began taking additional classes as well as furthering her education by pursuing courses geared at sharpening her skills, thus arming herself with the prerequisite skills she needed to launch into skincare.
After spending several years in the hair industry, she realized that she discovered her passion for medical aesthetics. Shayla's personal vision is to become a registered nurse, and work in the medical aesthetics industry as a Nurse Injector.
Shayla understands the importance of making others feel beautiful and feel confident being themselves, and feels rewarded in helping people feel comfortable in their own skin.  Shayla is very passionate about quality service, and strives to master her craft on all levels, and be noted among the best in this chosen area of Medical Aesthetics.
Cosmetologist/Esthetician